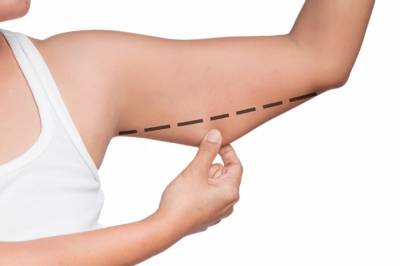 An arm lift, also known as brachioplasty, reduces excess skin and fat between the underarm and the elbow, reshapes your arm to result in smoother skin and contours, and results in a more toned and proportionate appearance.
There are many women who were not obese, but who have lost some weight either as a result of exercising or dieting. However, the weight loss alone may not address the "flabbiness" and size of their arms. If these patients still have relatively good skin elasticity, it is possible to tighten their upper arms with
Liposculpture or Liposuction
which removes the remaining excess fat.
On the other hand, if the patient had lost significant amount of weight before, and has poor skin elasticity along with excess arm skin folds, the only viable option is to undergo an Arm lift or Brachioplasty with or without a combination with
Liposuction
.
There are yet other patients that have not had massive weight loss, and either as a result of aging or poor skin elasticity, have loose and flabby arms. Liposuction will not benefit these patients who would need to undergo arm surgery.
Incisions
Incision length and pattern during the arm surgery depend on the amount and location of excess skin to be removed, as well as the best judgment of your plastic surgeon.
Incisions are generally placed on the inside of the arm or on the back of the arm, depending on the surgeon's preference, and may extend from the underarm (axilla) to just above the elbow. If fat is to be reduced during your arm lift, it will be excised or treated with liposuction.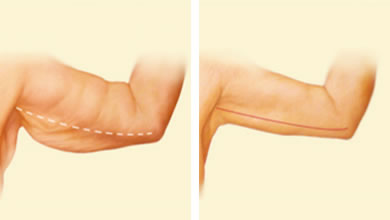 Depending on your specific conditions, incisions may be more limited. Then, underlying supportive tissue is tightened and reshaped with internal sutures. Finally, the skin is smoothed over the new contour of your arm.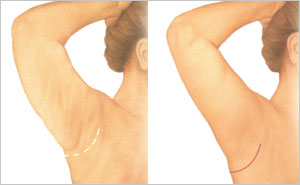 The smoother, tighter contours that result from arm lift are apparent almost immediately following your procedure, although initial results will be somewhat obscured by swelling and bruising. Your new, shapely and toned upper arm is dramatically improved both in appearance and feel.
---
Recovery time

1-2 weeks

Price range

1500-2500 euro

Anesthesia type

Local anesthesia, Sedation
---
---