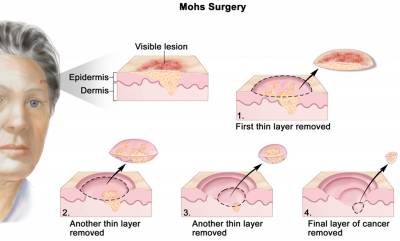 Developed by Dr. Frederick Mohs in the 1930s, Mohs micrographic surgery has come to be accepted as the single most effective technique for removing Basal Cell Carcinomas and Squamous Cell Carcinomas (BCCs and SCCs), the two most common skin cancers. It accomplishes the nifty trick of sparing the greatest amount of healthy tissue while also most completely expunging cancer cells; cure rates for BCC and SCC are an unparalleled 98 percent or higher with Mohs, significantly better than the rates for standard excision or any other accepted method.The reason for the technique's success is its simple elegance. Mohs differs from ...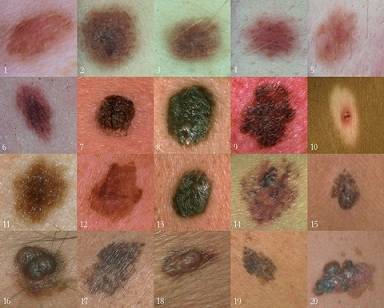 Melanoma is the most dangerous type of skin cancer. It is the leading cause of death from skin disease. It is caused by changes in cells called melanocytes, which produce a skin pigment called melanin. Melanin is responsible for skin and hair color. It can appear on normal skin, or it may begin as a mole or other area that has changed in appearance. Some moles that are present at birth may develop into melanomas. There are four major types of melanoma:Superficial spreading melanoma is the most common type. It is usually ...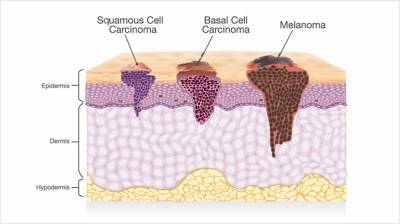 Skin cancer is the most common form of human cancer. It is estimated that over 1 million new cases occur annually. The annual rates of all forms of skin cancer are increasing each year, representing a growing public concern. It has also been estimated that nearly half of all Americans who live to age 65 will develop skin cancer at least once. The most common warning sign of skin cancer is a change in the appearance of the skin, such as a new growth or a sore that will not heal.
---
---